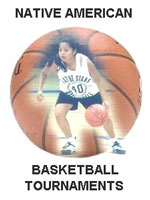 (click on image)
To view information on current Native American Basketball Tournaments, please click here or you can click on the Native American Basketball Tournament image (to the left) to visit Coach Largo's Native American Basketball Tournament site.

The Native American Basketball Tournament site was developed to promote Native American Basketball tournaments from the United States to Canada. This website is a free service for our Native American people. By networking with native tournament organizers, native coaches and native teams, we give our native people more opportunities to participate in more basketball tournaments. If you have any questions, please feel free to contact me via email at: coachlargo@hotmail.com

To post a Native Basketball tournament, fill out the following form and submit to Coach Largo.
Fill out our online form and submit your Native Basketball Tournament today...
Native Basketball Tournament Posting Form (online)
Using your computer, input your information into the data boxes. When you have
completed the form, simply click the "Submit Form" button at the bottom of the page.
© Native Stars Basketball All rights reserved.